Hotel Info
Located in the Lihu Lake scenic area in Jiangsu province, belonging to Juna Hotels Management Group Co. Ltd. , Wuxi Juna Hubin hotel is a magnificent, patchwork, leisure and business meeting hotel , which covers an area of extensive monopoly of Lihu Lake landscape attraction .
Hotel was founded in 1978, and the new West Wing opened in January 2009. Wuxi Juna Hubin Hotel consists of 482 luxurious facilities, different types of rooms and suites, many Chinese and Western restaurants and bars in east and west tower and three villas, which provides Wuxi traditional dishes, Taihu Lake delicious and international cuisine. Wuxi Juna Hubin hotel also has the largest pillar-less ballroom among Wuxi city and complete business and convention facilities .
Wuxi Juna Hubin hotel boasts the unique view of Lihu Lake landscape, nourished by Jiangnan style ,luxurious facilities and first class service . Landscape around the hotel, hidden secluded, the hotel is easily accessible, with rich cultural accumulation, natural room design and rich art.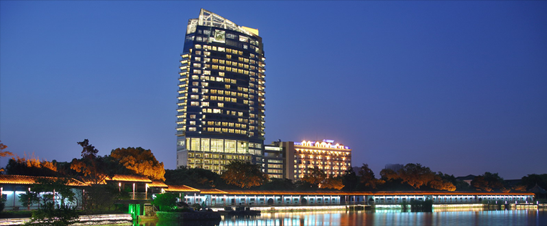 Picturesque
Wuxi Juna Hubin Hotel is located in Lihu Lake scenic area , besides mountain and river , boasts the beautiful and green environment. Neighboring the famous Liyuan park and the Ferris wheel named "Lake Star", the hotel is close to Wuxi major attractions. In particular, it is only 15 minutes drive away from downtown area , 20 minutes drive away from the Wuxi Railway Station , only 30 minutes drive away from the airport , a half hour drive away from Shanghai Hongqiao airport , two and a half hour drive away from Shanghai Pudong International airport.
When you enter the lake view room, you will meet luxurious facility and comfortable environment. Sight view is suddenly broden, you will enjoy panoramic view of the lake through the windows; while you pay attention to the adjacent scene , you can overlook exquisite pavilions in the Li Yuan. A Chinese landscape painting impressionistic ink volume is constituted by distant mountains , close rivers and gardens . In many rooms some large bathtubs are close to the windows. When guests baths, they can enjoying outdoor scenery meanwhile.
Guests can enjoy the scenery of lakes and mountains and the harmony of human and nature in such places as the hotel garden, Lake Rooms, or in the pleasure bar in West Building at 9-floor, Executive Lounge at10-floor, the fishing club of 27 layers to 28 layers.
Hotel garden covers an area of more than 80,000 square meters, with open shoreline, and integration with the surrounding lakes and mountains. You can practice yoga and have fresh air at the lake early morning, wander around the ancient woods to spend time in the afternoon , or have a rest near pavilions overlooking lake little sparks at night.

Famous Cuisine
Over the years, Wuxi Juna Hubin hotel is famous for its cuisine around southern China .Our Hotel make great efforts to build the formation of a distinct Wuxi features of "Hubin Cuisine" which combined the Wuxi traditional dishes with other cuisine essence. And on this basis, our hotel create such high-end cuisine and banquets as the "Qianlong South Banquet", "river north and south Feast" , "fine feast".
The "South Qianlong Banquet" presents exclusive sections of rich cuisine for the old imperial dignity , with its elegant shape, precise cooking , elegant name ,and gains high praise by thousands of foreign connoisseurs since introduction . Hotel has successively launched "Qianlong South feast " in January 1996 at Singapore and July 2002 at Hong Kong .Our team leader Hui Renliang also received the interview in honor by the former Hong Kong Chief Executive Tung Chee-hwa and the former Financial Secretary Antony Leung.Many chefs in the hotel has received national-level "master chef" title . Hotel dishes "Wuxi meat bones" had also won the gold medal of 1995 Beijing International Exhibition of food and processing technology. This traditional dish slightly improved, with reducing sugar content and better lean meat, receives great welcome by domestic and foreign gourmets . "Wuxi meat bones" has become a specialty to the hotel catering industry groups and even a gold standard in Wuxi.

Rich history, celebrities gather
Our hotel is located at north bank of Lihu Lake , and the name of Lihu Lake come from the story of Fan Li and Xi Shi boating seclusion in the Spring and Autumn Period from 2400 years ago . The legend gives the Wuxi Juna Hubin hotel some mystery and romantic atmosphere.
Hubin Hotel have a rich cultural accumulation. There are three Garden Villas. Jing Xuan House was founded in 1927, when Chiang Kai-shek and Soong Mei stayed here in October 30, 1946, for a quiet birthday for Chiang Kai-shek. Yi'an villa was founded in 1936 in Spanish-style , while the other one was built in 1937 named the Jing Yi House.
Wuxi Juna Hubin hotel has received Jiang Zemin, Li Peng, Zhu Rongji, Wen Jiabao, Musharraf and other domestic and foreign head of state. In 2009, the hotel became the designated hotel in second session of the World Buddhist Congress, received many great masters both at home and abroad .
Wuxi Juna Hubin Hotel also wons the deep favor of literature and sport stars , which had been the designated stay hotel for the eleventh Golden Rooster Award held 2002 in Wuxi. Our hotel has received Yu Qiuyu, Yang Lan, Jet Li, Jackie Chan, Li Ning, Xu Haifeng, and many other cultural celebrities and sports stars.

Natural style and rich art atmosphere
The newly opened West Building of Hubin hotel was designed by the Canadian Bolu Architects office with theme as "sailing." Mr. Ban Bolu considered fully about local historical and cultural background of Wuxi, skillfully combined Lihu Lake beauty with the sailing-type construction ,so as to make the new West Wing and the surrounding environment into a perfect blend.
Nature is the most core design elements. You will find so many various plants and trees as the theme of art and design patterns everywhere, that you'll feel harmony with nature even in certain places within the walls. Each suite is decorated with custom artwork, the theme of these works of art to nature, full of local characteristics. All restaurants on the first floor are named after nickname , and their interior rooms are full of elements of plants and trees.